I decided to make a recolor tutorial since lots of members are complaining that it's so hard to make a recolor. But actually, it's one of the easiest things if you don't have to change any textures. Here I'll show you how to recolor a papercraft within a few minutes, without messing up the textures.
Clicking on an image will enlarge it. Note that I use the Mac version, so lay-out of the program might look slighly different. The actions still are all the same. This will also work in Photoshop, but the buttons will be positioned elsewhere.
----------------------------------------------------------------
First, you'll need the free program "Gimp" which can be downloaded
here
for free.
Install the program, and fire it up! You will have 3 windows. One with tools, one where you can drag files to (when using the newest Gimp) and one layer-window.
Step 1
Open the papercraft you would like to recolor. In this tutorial, I'll be using ddi7i4d's Kirby. I only want to recolor his body though, and not his feet.
Click on the Lasso Tool (see picture) and roughly select the part you want to edit.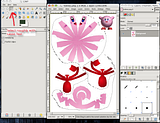 Well, that was easy, right? You should see walking ants now. That whole area will be selected. Now Gimp will only perform actions within that selection.
Step 2
Now go to the Layer window, and click on the "new layer" icon (shown in picture). If you can't find the layer window, click on 'dialog' at the top and then click 'layers" (or press ctrl+l) Press Ok when a dialog pops up. (you want it to be transparant)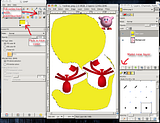 Click on the color-square to change the color you are going to paint with. After you found the desired color, click on the Paintbucket (shift+b) and fill in the selected area. Note that you have to paint on the new "empty" layer.
Step 3
Set that layer to "Hue". This will make the papercraft the desired color. I will call this the "hue layer" from now on. However, it still looks a bit dull. We will fix that later.
Step 4
Now, because we just roughly selected our kirby, the mouth and eyes are yellow now too! Select the eraser tool, choose a fuzzy brush from the brush pallet and then start erasing the stuff you want to have the old color on the Hue layer. If you accidently erased too much, just hit "ctrl+z" or paint over the layer with the paintbrush tool with the same color as you used before.
If you are familiar with Gimp/Photoshop and it's functions, I suggest using a layer mask tinstead of actually erasing it.
Step 5
Remember I said the color still looks a bit dull? Well, We'll be fixing that now. copy the Hue layer and set it to "burn". You might want to change the opacity of that layer a bit. I used 50 opacity for the kirby, but adjust it however you like it best.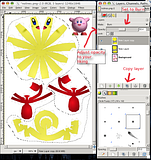 Step 6
The most important part:
When saving, just type .png after the filename, and it will automatically save as png. when you don't give any extensions, it will save as .xcf, which is only readable by Gimp. This format will save all layers, so it might come in handy if you want to recolor the same papercraft again. However, this tutorial makes recoloring so easy that you don't really need it with this particular job.
Got stuck? tell me here, I'll try to answer your question. Gimp is a pretty complicated program after all, and I'll understand if you get lost in all those tools
or show off your recolors here!
Let me know what you think